Walker Corp goes green with new loans on flagship towers
Property developer Lang Walker has struck an agreement with leading banks to create green loans for its flagship assets as it joins the push by all companies to focus on reducing their environmental impact and making buildings more sustainable.
Under the deal, Walker Corporation, one of the country's largest private developers, will create new green loans for its Parramatta Square in Sydney and Collins Square in Melbourne. The loans are with the Commonwealth Bank of Australia (CBA) and ANZ Bank.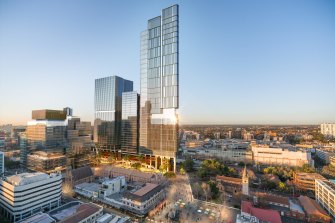 It comes as the property sector embraces sustainability and focuses on the environmental, social, and governance (ESG) criteria of the business. It has become a priority for developers with more tenants now looking for higher rated properties to lease and investors using it as a key inclusion in a sale.
Walker Corporation executive chairman Mr Walker said, "sustainability is at the core of the company's ethos".
"We are proud to have our flagship commercial buildings in Parramatta and Melbourne leading the way in environmental standards which gives us access to the green finance market," Mr Walker said.
"The 3 and 4 Parramatta Square projects have extended the terms of their green finance loans while Collins Square has now converted its existing loan into a green loan."
Mr Walker said tenants in both precincts were actively seeking environmentally friendly, sustainable buildings for their staff.
"Green loans are a mutual win-win for companies and communities as we all work together to make our planet more sustainable," Mr Walker said.
"Climate focused investment is on the rise with big demand to participate in loans which have helped finance green buildings and assets like Walker's, which feature clean and renewable energy, carbon emission reduction, as well as recycling and initiatives to reduce energy usage."
ANZ managing director, corporate finance Christina Tonkin said ANZ advised Walker Corporation on the successful conclusion of its latest green property loan, underpinning the company's commitment to an ambitious sustainability strategy.
"As the first private company to issue a green loan in Australia, Walker Corporation leads the industry with its highly energy-efficient office buildings and precincts that are strongly valued by tenants and corporate Australia." Ms Tonkin said.
Commonwealth Bank's group executive of institutional banking and markets, Andrew Hinchliff, said the bank acted as joint sustainability coordinator for Walker's Green Loans…
This article is from the Sydney Morning Herald, you can read the full article here:
https://www.smh.com.au/business/companies/walker-corp-goes-green-with-new-loans-on-flagship-towers-20210907-p58ph5.html