Simpler lending rules for home loans and credit to free up the economy
Customers will be promised faster access to loans under simpler rules that aim to free up credit and lift the economy by ending confusion over lending obligations for banks and finance companies.
Treasurer Josh Frydenberg will overhaul the laws governing mortgages, personal loans, credit cards and payday lending to streamline decisions on whether customers can afford the loans they seek.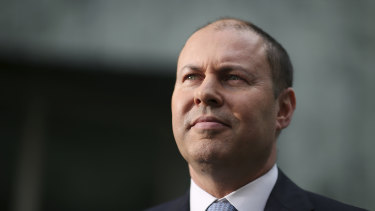 The changes respond to growing concerns over court disputes and the duplication of regulators in home and personal lending, sparking fears that restrictive rules on credit would curb economic growth.
With the government preparing to unveil tax cuts and spending measures in the October 6 budget, the lending reforms are intended to improve access to credit from March next year if Parliament approves changes to the Credit Act.
"As Australia continues to recover from the COVID-19 pandemic, it is more important than ever that there are no unnecessary barriers to the flow of credit to households and small businesses," said Mr Frydenberg.
"Maintaining the free flow of credit through the economy is critical to Australia's economic recovery plan."
The lending reform comes one day after sweeping changes to insolvency laws and a major speech in which Mr Frydenberg outlined a two-stage fiscal strategy that would keep significant spending in place to recover from recession.
"I expect Phase 1 to remain in place until the unemployment rate is comfortably back under six per cent," he said.
Once the government was confident the recovery had taken hold, it would move to a second phase to restore the budget balance over time, shifting from "temporary and targeted support" in order to focus on stabilising debt.
The Hayne banking royal commission recommended the simplification of regulation but these changes will be subject to scrutiny over whether they are in keeping with the spirit of the commission's final report.
The lending changes are being backed by industry ahead of the formal announcement on Friday, with Master Builders Australia saying it could speed up decisions for Australians trying to buy their own homes.
But the complex reforms could take time for banks and other lenders to implement, while sparking debate among consumer groups about the level of protection for Australians who take on loans they struggle to repay.
Banks are subject to standards set by the Australian Prudential Regulation Authority but they also face scrutiny of their responsible lending obligations by the Australian Securities and Investments Commission.
The government will remove ASIC from those duties to end the duplication after the corporate regulator lost a Federal Court action against Westpac over home lending standards.
The objective is to replace a philosophy of "lender beware" with a "borrower responsibility" principle to make sure credit is available…
This article is from the SMH, you can read the full article here:
https://www.smh.com.au/politics/federal/simpler-lending-rules-for-home-loans-and-credit-to-free-up-the-economy-20200924-p55yz9.html